Vet, Volunteer, Grandfather & Patient of Dr. Macey Completes Marathon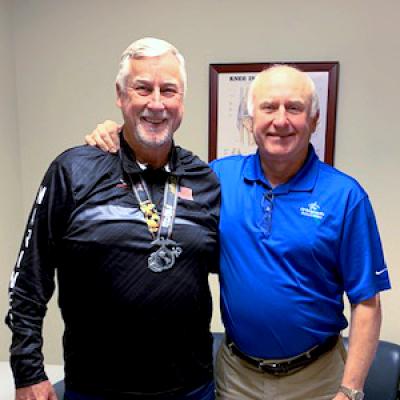 At 68, after serving his country, recovering from five bypasses, back surgery, and two knee surgeries, Desert Storm veteran, grandfather and volunteer Charles "Terry" Bruce finished the Marine Corps Marathon at the end of 2019.
In 2011, Terry had five bypasses. He says, "When I was going through my heart procedure, I had nobody to come and tell me I was going to be alright and that I was still going to be able to do things. I thought I was done."
That attitude changed when a nurse and friend challenged Terry to complete a mini-triathlon. "I did that six months after surgery," says Terry. "Somehow, in the back of my mind, I still wanted to do the Marine Corps Marathon, but I didn't think I would be able to do it."
In 2015, Terry completed the Marine Corps 10K in Washington, D.C., but he decided he would work toward running the full 26.2 miles of the Marine Corps Marathon. This was the same year he joined Mended Hearts, a non-profit organization geared to provide support and hope to heart disease patients. As a Mended Hearts volunteer, Terry is able to provide encouragement to fellow heart patients, peers he kept in mind every step of the way to his goal.
Throughout his training for the marathon, Terry had multiple health hurdles, surgeries, and rehabilitation, including back surgery, pain management care, and also minimally invasive knee repair surgery with Dr. Theodore Macey of Orthopaedic Associates.
"I perform arthroscopic knee repairs on patients in their teens to their 80s. I've done about 150 per year for the past 36 years," says Dr. Macey.
And after that repair, Terry says he was getting back on track to make the marathon. "Then," says Terry, "Hurricane Michael came."
While helping clean up in Panama City after the hurricane in 2017, Terry sustained another nasty knee injury. Once again, Terry was in good hands with Dr. Macey, who partnered with his patient to make sure he was set up for success.
"While undergoing physical therapy again, I was feeling like I'd never be able to do anything physically challenging again. With one back surgery and two meniscus surgeries on my left knee—that would give anyone doubt," says Terry.
"I am sure others thought that I was off my rocker. I shared this thought with Dr. Macey. I will never forget the expression on his face," Terry continues. "He looked down and asked when was it going to be. I replied, 'In October.' He held out his hands and counted on his fingers and looked at me and said in the most encouraging way that he could, 'You should go and do that.'"
With some help from his doctors, his own grit, and faith, Terry was able to go forward, saying, "I never felt confident that I could finish the run at all . . . But I stuck with it."
Looking to serve as an example to fellow heart disease patients and also run for the Semper Fi Fund, Terry gave it his all. On October 27, 2019, Terry completed the Marine Corps Marathon.
"I finished strong. I didn't have any issues with my legs or my back," says Terry. "Having a background in the Marines helped because they really want you to persevere in whatever you try to do, but I wouldn't have been able to do it without the doctors who were involved, including Dr. Macey."
"What I do is half of it. The patient has to rehabilitate. Terry was motivated, and he had a goal," says Dr. Macey. "I'm happy to congratulate Terry on completing something he's been wanting to do his entire life."
Today, Terry is still enjoying a life of serving others and staying active. He hits the gym and the golf course when he can and, always keeping goals in mind, Terry says, "The Appalachian Trail is definitely on my bucket list."
Helping patients get to success stories like Terry's is the goal Dr. Macey and all the specialists at Orthopaedic Associates share. To learn more about the care Dr. Macey provides or to schedule an appointment, call 850-863-2153 or request an appointment online.